Any questions or comments? Please contact us.
e: admin@newin90.co.uk
t: 01256 889667
New In 90 is owned by  Apex Media Ltd. Willow Cottage, Silchester Road, Little London, Tadley. RG26 5EP.
The New In 90 Team and a small group of dedicated experts on a crusade to junk fad diets and gym crazes and get people fit and healthy by adapting their daily habits and routines for long term success.
"The New in 90 Programs are really effective for two big reasons – they're achievable and sustainable! They don't ask you to do anything that's too hard or too complex and are just gradual, easy-to-follow and fit easily into a busy working day."
Jean Ann Marnoch, Founder New In 90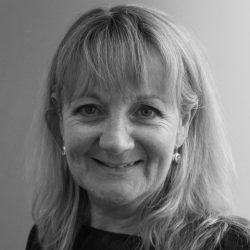 WOULD YOU LIKE TO BE SLIMMER, FITTER AND STRONGER?
We provide easy-to-follow and effective home-based Programs for older people who really want do take control of their weight and fitness FOR GOOD.
Available as books or easy-to-use downloadable Apps.
✖NO strict diets
✖NO hard exercise routines
✖NO endless monthly charges
How can our Programs help YOU?
Rather than advocating specific diets, calorie counting or organised exercise regimes, our philosophy is all about losing weight and getting fit by slowly transforming your daily habits and routines around eating and exercise to produce the desired LONG-LASTING results.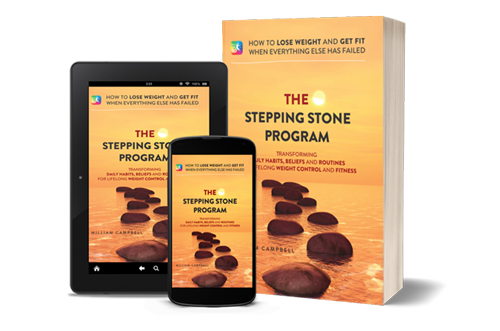 Use the Stepping Stones to make simple but crucial changes to your daily habits and routines for long-lasting results.
No diets, no gyms and no monthly fee.
"Clear and motivational"
"Brilliantly informative"
"A really helpful book"
"After reading this, I'm back in control for good"
Amazon reviews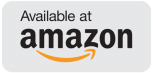 If you would prefer to buy the book direct then just touch the button for details
✔Do you really need to lose weight at all? Our handy tables will give you the lowdown.
✔You don't have to be a scientist but knowing about fat and what your body does with it will help you understand what needs to be done.
✔What are calories?
✔The truth about a 'balanced' diet.
✔What's your happy weight?
✔Introducing The 4 Stepping Stones.
✔The process and form of change.
✔The amazing thing about triggers.
✔Struggling to start? 
✔How to change more ingrained habits and beliefs.
✔How to remove barriers standing in your way.
✔Important recap and self-help tools.
✔The Self-Talk Audit.
✔The Motivation Gauge.
✔The Hunger Scale.
✔The Magic of Meditation.
✔Why Meditation is so important.
✔Meditation – getting started.
✔Meditation – the benefits.
✔Your journey.
✔A final message.
✔Need more help?
✔The New In 90 Stepping Stone Coaching Program.
✔The New In 90 Weight Loss and Fitness Program.
✔Want to get more active?
✔Ten easy ways to turn your everyday life into one great exercise circuit!
✔Great exercises and stretches to fit into your day.
✔Special introductory price just £9.99.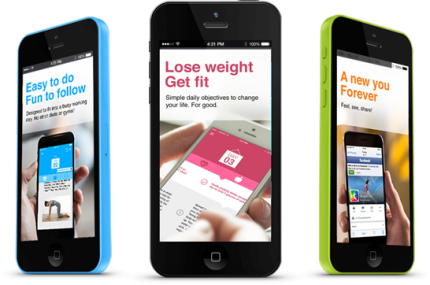 The original New In 90 Program is a downloadable App which shows you how to transform daily habits and routines over a 90 day period to achieve long-lasting weight control and fitness. It's easy-to-follow objectives are simple but effective.
"The best thing about the App is that it makes me feel in control again and gives lots of support. I'm much more active, less stressed and have lost about one and a half stone!"
iOS app store review

Also available as an e-Book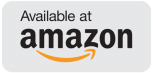 ✔Download the New In 90 App from the iOS store and start today.
✔Try the first 7 days for only £1.99 before committing to the full Program.
✔Daily eating and activity objectives for 90 days.
✔Miss a day? No worries – you can go at your own pace.
✔Lots of help and advice to maximise the effectiveness of the Program.
✔Customisable shopping list.
✔FREE guide "The 5 Golden Rules to follow BEFORE you start the weight loss journey".
✔How to remove barriers standing in your way.
✔Important recap and self-help tools.
✔The Self-Talk Audit.
✔The Motivation Gauge.
✔The Hunger Scale.
✔The Magic of Meditation.
✔Ideal for people who hate diets and gyms.
✔Specific advice on motivation and how to keep your mind focused on your objectives and goals.
✔Food guide for healthier choices.
✔Full access to the New In 90 website and community with fantastic articles and features to help and advise you.
The New In 90 Programs are all about choice – your choice to make the changes in your life that will improve your health and fitness now and in the future.
See what our users say about the New In 90 App
"I'm on day 34 and the plan has really changed the way I approach diet and exercise"
Vicky from Manchester
"At last…a weight loss program that tells you how it is and then tells you what to do!"
Kirstie from Dagenham
"I really like this because there's no devout calorie counting!"
Suzie from Manchester
"I can really see how this will work"
Miche from Southampton
"Love the motivational stuff and linking to social media"
Rachel from Basingstoke
"The best thing about the Program is that it makes you feel in control again"
April from Leatherhead
"This plan will set me up long term – so no more diets for me!"
Lillian from Stockport
"Started New In 90 about 8 weeks ago and it's made a real difference – so it works for blokes as well!"
Tony from Oxford
Join the New In 90 Community
Chat, help, get advice – see what's going on with other New In 90 users!