Now you can have the COMPLETE
New In 90 Weight Loss and Fitness Program
PLUS some amazing FREE extras
Sent directly to your in-box!
ORDER NOW
SPECIAL INTRODUCTORY PRICE £29.99 £19.99
Scroll down for full details
Receive all 7 Parts + 2 FREE vital extras
Part 1: How and why the Program works

Part 2: Setting your goals and objectives – and how to overcome obstacles preventing success.

Part 3:

The 3 vital tools to maximise the effectiveness of the Program

Part 4:

The Motivation Gauge and Self-Talk Audit.

Part 5:

Time to start – the first 30 days.

Part 6:

Things are changing – days 31 to 60.

Part 7:

A new you – days 61 to 90.

FREE EXTRA: 3 Amazingly Effective Exercises You Can Do Anywhere

FREE EXTRA:

10 Easy Ways To Turn Your Everyday Routines Into An Exercise Circuit
Each item will be sent directly to your given e-mail address.
You can then download them to your desktop, tablet or mobile.
ORDER NOW
SPECIAL INTRODUCTORY PRICE £29.99 £19.99
START TODAY!
Scroll down for full details
Part 1

–
Setting the scene for your weight loss and fitness journey.

 This introduction provides vital background information to how the Program works and why it is different from other standard diets and exercise plans. It will give you a great start to the weight loss journey.
Part 2 – Setting clear goals and objectives is vital if you want to maximise your chances of success. This part of the Program asks two crucial questions and leads you through the goal-setting process so that you'll know exactly where you're going and what you want to have achieved when you get there!
Part 3 – Three vital techniques to overcome negative beliefs.

These are the barriers that stop you from starting (or finishing) your weight loss and fitness journey. The great news is that it's relatively easy to get rid of them and we'll show you how to do it so you can start The New In 90 Program with confidence!
Part 4 – How to stay motivated

. As anyone who has ever been on a diet or exercise regime, keeping motivation levels up is one of the hardest things to do! The Motivation Gauge and Self-Talk Audit will be your vital allies when things don't quite go according to plan.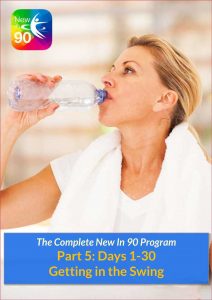 Part 5 – Now you can get started!

Here's Days 1 to 30 of the Program and, whilst simple to do, they will ease you gently into your new lifestyle. You'll also learn how to meditate – giving your mind that crucial rest during a busy working day. Help and advice is always available via our website or Facebook Group page.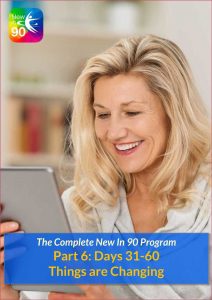 Part 6 – Things are starting to change!

As they do, you'll feel motivated, more stress-free and happier. You'll be starting to make your own changes as well. If you do have any issues or problems, then there's plenty of help and advice on hand, either from the New In 90 experts, or from the New In 90 Community!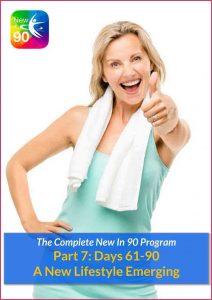 Part 7 – The last third of the Program is the most satisfying

because you will be able to to see a real difference in the way you approach and think about eating and exercise. Many of the daily tasks and objectives will be second nature by now and you'll be including your own as your weight drops and fitness levels increase. It's a great time!
PLUS TWO VITAL FREE EXTRAS –

written by the experts at New In 90, these great articles will really help as you start to slowly change and adapt your day-to-day lifestyle.